A cutting board is a durable board which is used for cutting material. In kitchen cutting board is commonly used to cutting food. This is also known as a chopping board.
With a professional knife, the most necessary tool you need in your kitchen is a cutting board. Normally a cutting board is flat, smooth surface to protecting the surface from getting scratched.
It comes with different size and different material. The range in size from large enough to manage a turkey to small enough to cut a lime. In the case of thickness, it varies from three inches to one millimetre.
"As an Amazon Associate, I earn from qualifying purchases."
Considerations before buying a Cutting Board:
Cutting Board Materials
Wood
These type of cutting board are typically constructed simply by the flat surface of hardwood. Woods hardness and grip makes the cutting easier and reduces scoring of the cutting surface grained wood and small pores are best for wooden cutting boards. Good hardness and tight grain help reduce scoring of the cutting board. There are some advantages that are somewhat self-healing if any shallow cuts happened on the surface, wood close up that by their own and it has natural antiseptic properties. Overall it's durable and mostly used.
Bamboo:
A bamboo cutting board is 100% natural with a gorgeous look. It's eco-friendly and renewable. Generally, bamboo absorbs a very little amount of moisture and resists scarring from knives, so it is more resistant to germs than other wood. By taking proper care regular cleaning you can use is for decades. In this case, before first use its better to apply mineral oil and continue this process at least once in a month. It will protect the bamboo from microorganisms and increase longevity.
Plastic:
At first, the prime benefit of a plastic cutting board is it easy to clean and dishwasher safe. Plastic cutting boards are very durable, affordable, and easy maintenance. Plastic boards are thinner and lighter than other boards. Plastic boards are basically polyethylene so it can be harmful in health issue.
Silicone:
Silicone cutting boards are rubbery and flexible. Its allows you to easily transport staff and garbage by creating a funnel. It's soft so maintain the strength and sharpness for a long period. It is non-porous, scratch-resistant and bacteria. It assures safe and hygienic food preparation.
Glass:
Cutting boards made of glass is a good choice for light cuts line salad and garnish. These are nonporous that means it doesn't absolve water so there is no chance for micro-bacteria But the negative part is it makes the knife dull easily and it can be dangerous in case of fall and brake down.
Steel:
Steel is extremely hygienic and simple to clean. There's no way for bacteria and germs growth. These are easy to clean and clean all dirt with water wash only. There are a few disadvantages that it clashing the knife against their surface as a result it damages knives cause them to slip.
Cutting Board Durability:
For long life, a Cutting board need to be tough, safe and sketch resistant. It is an everyday use element of your kitchen with rough use. So for durability, you need heat, knife and regular cleaning. So if you don't want to change your cutting board in a while then consider all the factors before buying.
Sizes of Cutting Board :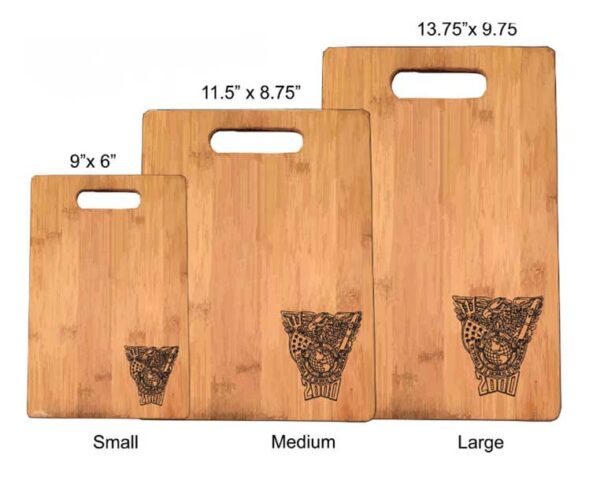 | | |
| --- | --- |
| Board Type | Board Size (Inches) |
| Small | 8×10 in |
| Medium | 10×14 in |
| Large | 18×24 in |
| Extra Large | 20×30 in |
| Round | 10×10 in |
Small: These are suitable for Small cuts like single fruits, snacks, herbs, small spaces and salads. Usually, this kind of cutting boards comes in wood or plastic material. These are too handy to use and carry. Usually, you can get four size ratio in small cutting boards.
4×6 in
5×7 in
6×9 in
10×8 in
Medium: Medium cutting boards are mostly used for its multi-purpose using facility. You can cut several items at a time. This size is best for meat and vegetables. Along with that, it can be your friend in cutting bread and breakfast also. You will get it in three different sizes like:
10×14 in
12×18 in
15×20 in
Large: If you're looking for an all in one cutting board then the large size is perfect for you. But it is not that much common. Mostly it is used professionally. It's a little bit tough to handle and move. The common sizes are:
7×23 in
18×18 in
18×24 in
Extra Large: Extra-large boards are perfect for preparing multiple meals at a time. These are usually used at a commercial kitchen with a professional knife. Most suitable for large meat or turkey with a heavy sharp knife. Available sizes are:
Bacterial Resistance:
All wide it is considered that plastic cutting board is most bacterial resistance. Its comes without any porosity so there is no chance of absolving liquid and it's become clean with water wash only. Other side glasses, silicon, granite cutting boards are also bacterial resistance.
For reducing the chance of bacterial contamination the experts advise using separate boards for different types of food such as raw meat, cooked meat, dairy and vegetables. To make this process easier professional kitchens follow this standard colour-coding system:
Blue cutting boards: raw seafood.
Red cutting boards: raw red meat.
Green cutting boards: vegetables and fruits.
Yellow cutting boards: poultry.
Brown cutting boards: cooked meat.
White cutting boards: dairy and bread and also for universal if no other board is available.
Safe for knives: Best cutting boards need the quality that you can use your knife for a long time with our damaging its sharpness. In this case, there is the best option is plastic and wood. Those will not dull your knife at all. But glass and steel cutting boards have a trend to dull the sharpness quickly.
Low Maintenance:
Cutting boards with low porosity that means which are absolve lower amount of liquid that's are easy to clean and maintain hygiene. In this case, you can choose plastic and silicon. These are also dishwasher safe and easy to clean. Glass cutting boards are also a great choice.
Tips for Clean and Care of a Cutting Board
It is good to wash your cutting boards with gentle soap and warm water.
In the case of wooden boards make sure it dries thoroughly.
Never put a Glass or wooden cutting board in a dishwasher. It can completely destroy your cutting board.
Apply food-safe mineral oil on your wooden and bamboo cutting board at least once in a month. Its helps to protect from bacteria and increase durability.
Store your cutting board with ventilation to keep them dry and last long.
Make sure to sanitize all your cutting boards with lemon or vinegar to keep it smell free.
What is the use of cutting board?
A cutting board is a durable board which is used for cutting material. In kitchen cutting board is commonly used to cutting food. This is also known as a chopping board.
What type of cutting board is best for meat?
A plastic cutting board is best for raw meat because it has low porosity and less trend to absorb juice from meat. Also its hardness is suitable enough for poultry or red meat. So you can use plastic cutting board for meat without any doubt.
What kind of cutting board is best for vegetables?
You can use any kind of cutting boards for vegetables and fruits. There are options like plastic, bamboo, wood and so on. These all are suitable for vegetables because in the case of cutting vegetables you need not to be too much concern about hardness and liquid absorbance.
What is the healthiest type of cutting board?
As plastic cutting boards were easier to clean, so they are safer. Also don't have the trend to absorb food juice. But, some research shows that wood cutting boards are actually more safe cause plastic contain PFF which may make the food toxic but the chance is very less.
What size cutting board sells the most?
Most commonly used and best seller cutting boards are 14X16" to 16X18" inches. If you consider with edge, grain edge boards are more popular instead of end grain.